Home Theater Installation
// Home Theater Installation
We offer complete wiring and installation of home theater equipment, certification and calibration. We can set up TVs, wiring, sound systems and more to give you the best home entertainment experience possible.
Home Theater Installation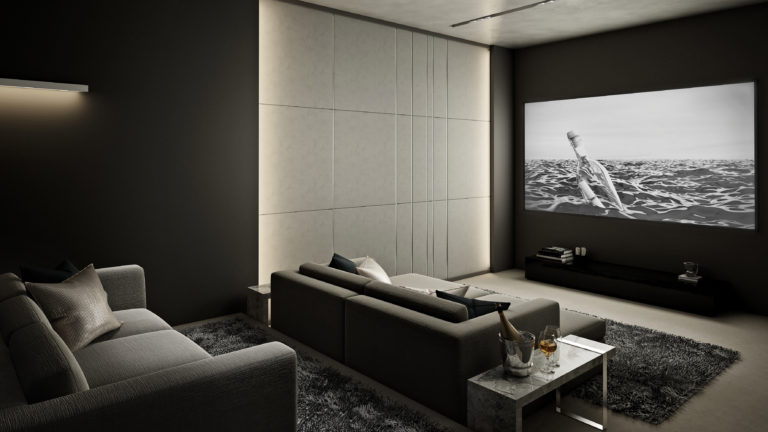 Conduct a pre-installation details walk-through upon arrival at your home
Additional charges for any required add-ons will be quoted by the installer prior to any work being done.
Attach and conceal customer-supplied cables from the TV to a single tuner, A/V source component or cable connection by routing up to 25 feet of cable through one stud bay in a single standard frame wall
Ensure all wall-fished cable exit points are finished off with either a wall bushing or specialized wall plate
Connect your newly purchased video components in 1 room
Includes VCR, DVD, DVR, and/or video game unit

Integrate up to 7 non-networked components or components already connected to an existing network
Enable parental control functionality and instruct you on its use, if desired
Connect up to 2 digital TV converter boxes
Drill access holes as needed for wiring within cabinets
Set up your speakers, receiver and/or subwoofer in one room for up to a 7.1-channel surround sound system
Verify that all speakers are properly positioned and working
Consolidate and program the basic functions of your remote control devices for easy operation
Includes setting up factory-supplied universal remote control with the proper codes to control multiple components, as per factory specifications
Ensure that all remaining exposed wires and cables are neatly dressed, using wire ties as needed
Clean up work area and dispose of boxes, packaging materials and installation debris
Demonstrate operation of your new home theater
Approximate time: 3 hrs.
The following are not included with this service
Additional holes drilled, wires hidden within walls or any type of custom in-wall wiring or dressing (beyond the concealed wiring between flat-panel TV and A/V source component, described in detail above)
Moving, alteration or installation of electrical outlets
We can install smart homes, universal remotes, projectors, security cameras, connected speaker systems and soundbars and more in your home. For more information or to hear about more of our services, get in touch with us today.
Get in touch with us to schedule an appointment, learn more about our company, services and pricing, or to get a free quote.